Have you ever felt like every good story has already been written?
Then tap into your dreams for fresh ideas that are uniquely yours.

This workshop explores where dreams come from, how you can remember them better, what they mean, and how you can use them to inspire your writing. Through a brief history of dream interpretation to current theories on dreaming, you'll gain insight into how others have used dreams as inspiration for their creative work.
Each night's dreams hold the secret to a richer understanding of yourself and provide an endless source of inspiration for your writing. Unleash your potential by learning how to understand dream code. We'll look at how individual dreams and recurring dreams can be understood and then adapted for your poetry, short stories, essays, plays, and other forms of art.
Join us for a deeper exploration of your unconscious mind. Come prepared with two dreams (either puzzling, troubling, delightful, exciting, etc.) that you want to understand at a deeper level. Share your dreams with the group or keep them to yourself, if you prefer. Either way, you'll leave with solid, well-developed ideas for your writing projects and a better understanding of yourself.
Leslie C. Halpern has kept a nightly dream diary since she was 13 years old. She wrote her Master's Thesis on sleeping and dreaming in the movies, and then expanded the manuscript for an academic publisher as the book Dreams on Film. The Cinematic Struggle Between Art and Science. She was interviewed about movie dream sequences on the Canadian television series Saturday Night at the Movies and has spoken on the subject at Rollins College and as part of the Florida Film Festival.
Based in Central Florida with more than 3,000 published pieces, she is a poet, essayist, journalist, and author of several additional books including Reel Romance. The Lovers' Guide to the 100 Best Date Movies (Taylor Trade Publishing, 2004), Passionate About Their Work. 151 Celebrities, Artists, and Experts on Creativity (BearManor Media, 2010), and a book of children's verse titled Rub, Scrub, Clean the Tub. Funny Children's Poems About Self-Image (Cricket Cottage Publishing, 2012). Her writing awards include a Distinguished Service Award from the Florida Literacy Coalition, Outstanding Contribution to Literacy Award from Seminole Community College, Grand Prize Winner of the 1997 Mentor Award, and several awards for her poetry. Visit her website or Facebook fan page.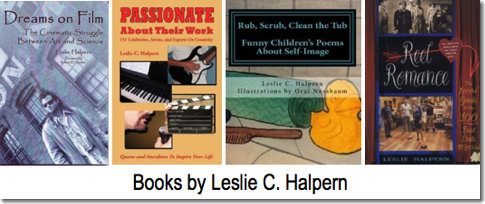 REGISTRATION HAS CLOSED.
When: Saturday, November 3, 2012, 11 AM – 3 PM
Workshop starts promptly. Please come up to 30 minutes early to network and settle in. Coffee, tea, and light snacks will be available.
Where: Community Clubhouse, Winter Park FL 32792 – MAP
Fee: $65 (Includes light refreshments & Leslie's Dream Artistry Workbook)
Sign Up Online: [button link="https://www.paypal.com/cgi-bin/webscr?cmd=_s-xclick&hosted_button_id=A26L2YWY227NW" color="#0000ff" size="4" style="2" dark="0" radius="auto" target="self"]PAY NOW[/button]
Sign Up by Mail: Make your check payable to MAD about Words. (Sorry, we can only take credit card payments online.) Please include your full name, address, phone number and email address. Mail your information and payment to MAD about Words, P.O. Box 5057, Winter Park FL 32793-5057. And email us when your check is on the way if you want to be sure you're not boxed out by faster credit card registrations.
Terms of Registration: You must be age 18 or older to participate. Special offers and discounts cannot be combined. Refunds cannot be issued for cancellations unless we receive your written refund request one week before the workshop date. Fees for returned checks and cancellations apply. If, at our discretion, the workshop is canceled, refunds will be issued. Your registration is confirmed via email from MAD about Words.