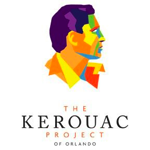 On Saturday, January 26, The Jack Kerouac Writers-in-Residence Project of Orlando partners with MAD about Words to offer you the opportunity to learn from and write with Mike Rands, the current writer-in-residence at Kerouac House.
Writing the Radical Other
Write what you know. This is often the first piece of advice given to writers. But what about writing what you don't know? Or more specifically, how do you get inside the mind of a character who, for whatever reason, seems radically different to you? We'll discuss different ways of taking on this challenge and look at the risks and opportunities that writing the 'radical other' involves.
Michael Rands was born in Johannesburg, South Africa. He received his MA from the University of Cape Town. His manuscript, a novel, Praise Routine Number Four was published by Human and Rousseau Publishers. He worked in the television industry as a writer and director before moving to Japan where he taught in a high school for three years.
He recently completed his second creative manuscript, A Single Story. He has also co-written an economic satire, The Yamaguchi Manuscripts, and a non-fiction work, Kamikaze Economics: The Story of Modern Japan, both available through Amazon. He did a residency at I-Park in Connecticut in late 2012. During his time at the Kerouac Project he plans to complete a draft of a new novel with the working title As Dark As It Gets. The story is set predominantly in Japan.
Space is Limited • Reserve Your Place Now
When: Saturday, January 26, 2013 – 10 AM to 1 PM
Workshop starts promptly. Please come up to 30 minutes early to network and settle in. Coffee, tea, and light snacks will be available.
Where: Kerouac House, 1418 Clouser Avenue, Orlando FL 32804 MAP
Fee: $35. Part of your workshop fee goes to support Kerouac House.
[gn_button link="https://www.paypal.com/cgi-bin/webscr?cmd=_s-xclick&hosted_button_id=2Q6VTZ6L3BJTY" color="#CC0000" size="2" style="1" dark="0" radius="auto" target="self"]Register Online[/gn_button] [gn_button link="http://madaboutwords.com/register-by-mail" color="#CC0000" size="2" style="1" dark="0" radius="auto" target="self"]Register by Mail[/gn_button]
Terms of Registration: You must be age 18 or older to participate. Special offers and discounts cannot be combined. Refunds cannot be issued for cancellations unless we receive your written refund request two weeks before the workshop date. Fees for returned checks and cancellations apply. If, at our discretion, the workshop is canceled, refunds will be issued. Your registration is confirmed via email from MAD about Words.