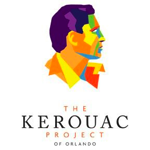 On Saturday, October 13, The Jack Kerouac Writers-in-Residence Project of Orlando partners with MAD about Words to offer you the opportunity to learn from and write with Caitlin O'Sullivan, the current writer-in-residence at Kerouac House.
Flashing into Fiction: Getting Started with Fiction's Shortest Stories
Flash fiction is defined by its brevity: these short stories are usually between 500 and 1,000 words long, but include vivid characters, gripping plot, lush description, and piercing insight.
In this workshop we'll discuss how to compress these elements into fiction's shortest form. Learning to write flash fiction can be fun, satisfying—and even helpful for longer writing. Attendees will write and have the opportunity to share one (or more!) complete stories during the workshop. No experience with short stories or flash fiction required.