MAD about Words is the brainchild (and heartchild) of Mary Ann de Stefano. MAD helps writers achieve their writing goals by providing high-quality editorial services, author website design, writing workshops, and other resources for writers.
The Art of the Personal Essay
A writing workshop at Kerouac House with writer-in-residence Sarah Viren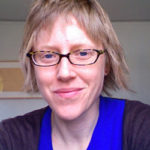 The personal essay is enjoying a recent resurgence in popularity, with many fiction writers and poets, as well as emerging writers, trying their hand at essay writing. But how do we write about ourselves without coming off as narcissistic or—worse yet—boring our audience to death? In this workshop, we'll discuss several different approaches to writing from the "I" and spend some time drafting our own flash essays, or short personal essays. Details & registration...
Events for Writers & Readers