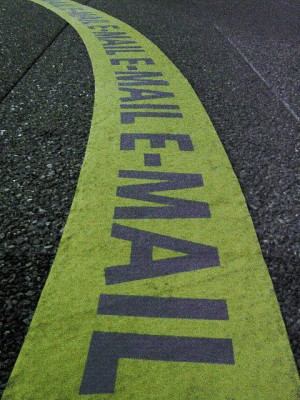 Email remains one of the most least expensive and most effective vehicles for marketing. Are you using it effectively?
Here's something that happens a lot. I receive a short email inviting me to a book release party. I scan it quickly, and I have to admit, I trash it quickly. Why? The person's name was not familiar to me. (I couldn't find her in my contact list.) Not only that, the party was taking place on a weeknight, about fifty miles from where I live. I have to wonder: what was the sender thinking?
This sender erred by not making our relationship clear. Had we met at a writer's conference? Does she subscribe to my newsletter? Had I signed up for her mailing list long ago? Or did she just scrape my address off my website like a spammer would? She also erred by not making the content relevant to me. It's not likely that I will travel all that distance for her book party.
Often, I'll get an email like this one: "I thought you should know that my new book, The Greatest Thing Since Sliced Bread, is out."  That's it. No context. No call to action. I wonder: Why did you think I should know? What were you expecting me to do with this information?
Because of my profession, I am more likely to thoroughly read book-related emails than most people are. But the truth is, these  frequently-used "techniques" just don't work. Here are some key principles for effective email marketing.
Develop a relationship with your email recipients.
Market research has shown that most people do not buy a product (your book, example) right after they hear about it. But when people get ready to buy a book (or need a speaker, or ask for consulting) you want them to think of you first. Regular mailings of value will keep your name at the top of potential buyer's minds.
Provide content that is relevant to  recipients' interests (not just your self-interests).
Let's face it, unless you're a famous writer, large groups of people are not going to be all that interested in what's going on in your writing career. Don't make me-centered selling your main message—buy my book, come to my reading, me, me, me. Self-promotion quickly becomes tiresome. Provide content that is unique, interesting and valuable to your readers, and they will be interested in you.
Be considerate.
Email "by permission" only.  Include an email sign-up form on your website so that people can voluntarily opt into hearing from you. As you begin to mail to contacts, let them know how you obtained their email address; why they are being emailed; what kind of information they can expect to receive and how often; and how they can unsubscribe from your mailing list if they want to.
Never expose your mailing list to all your email recipients.
It's rude! It undermines the recipient's privacy and exposes her to people who choose to "reply all" when they're sending what should be a private message. Hide your contact list in the BCC portion of your email and send the email to yourself.
Never, ever scrape email addresses from websites or use mailing lists without permission. This is what spammers do!
Make sure you're sending subscribers information that is relevant to their expectations.
Do not mix your professional mailing list with the one to which you send jokes, religious, or political mailings. The writer who used to send me (and apparently his entire mailing list) off-color jokes in between promotional mailings achieved the wrong kind of top-of-the-mind awareness.
Mail regularly (but not too often).
Regular emails help to create top-of-the-mind awareness. If you wait for months (or a year) to contact the people who asked to be on your list, they will probably not remember why they signed up for your list or what relationship they have with you.
What is your experience with email marketing either sending or receiving? What works and doesn't work for you?
Let me show you how you can use email more effectively to promote your books or services.
Contact MAD for a Free Consultation
A version of this post appeared originally on the Florida Writers Association blog.