SAFE Words BackToSchool Slam w/El'Ja
August 17, 2017 @ 8:00 PM

-

11:00 PM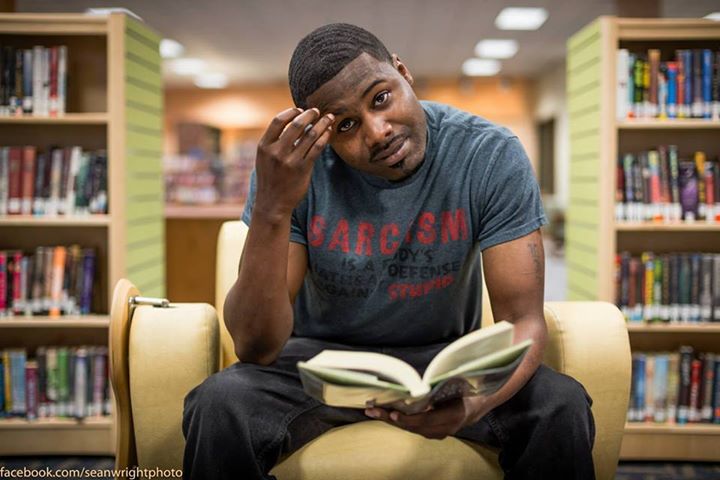 Buy a drink/support the venue to sign up!
Sign Up at 8pm, Slam starts at 9pm!!
Two rounds! Round One, 12 poets!
Round Two, Top 5 poets, Best poem wins!
HERE'S THE CATCH!
THE WAY YOU SIGN UP WILL BE THE ORDER FOR THE SLAM!
GET THERE EARLY TO GET A GOOD SPOT!
***************Content for the show should be themed around school & education!************
WINNER GETS $50!!!
LeJuane Bowens (El'Ja) will be our headliner!
El'Ja is a motivational speaker, poet, author, Comic Con panelist and workshop facilitator who has performed in numerous slams and featured across the US along with being the 1st poet to have his work in the Obama Art Museum located in Raleigh, NC (the 1st and only of its kind in North Carolina).
In 2014,he was recognized as the 1st ever NC Poet to compete in three different Grand Slam Finals in three different cities & win ALL three slams(Fayetteville, Charlotte, and Durham) and, along with the Bull City Slam Team, won the 22nd Southern Fried Poetry Slam. In 2015, El'Ja was nominated for Spoken Word Artist of the Year at the 5th Annual National Poetry Awards As a 3 time member of the Bull City Slam Team, they are ranked 9th in the country at the 2016 National Poetry Slam.
He is one of the founders and is the director for the Southeastern Regional NC Poetry Festival held once a year in Fayetteville, NC and he is a featured poet on Poetry Slam Inc's Youtube channel and All Def Poetry; a Youtube channel produced and facilitated by Russell Simmons (The Chairman and CEO of Rush Communications and co-founded the hip-hop music label Def Jam).
El'Ja is also the author of the poetry book, " So Many Things to Say: A Collection of Poems" and "Anywhere…But Here". As of 2016, he was the recipient of the Rising Star Male Poet Award for the State of North Carolina and overall recipient of the award for the 2016 GANSPA Awards. He is also host to an event called the Nerd Slam which he has done at the Southern Fried Poetry Slam, National Poetry Slam, and numerous ComicCon events across the Carolinas..When it's all said and done,El'Ja is just wanting to accomplish one goal,and that is to speak life and live life correctly.
We will have poetry-tag after the slam.
Events are subject to change without notice. Please confirm details with the event organizer.