Storytelling as Bungee Jumping…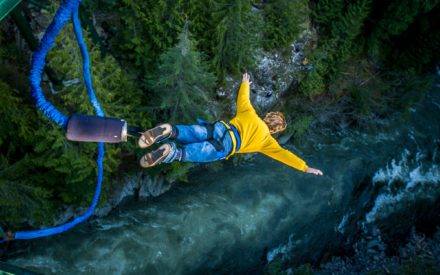 Formerly known as "Storytelling Practice Session" but we have changed it up just a bit… *Warning – If you are of faint heart or easily shocked, flabbergasted, amazed or thrilled at what life throws at us and how we handle it… You may want to seek your doctor's permission before attending this event. Writers and performers: You are encouraged to write and perform a piece that is like bungee jumping for you. "Risky" in some way.
Maybe it's a story you know is important, but you've hesitated to tell… maybe it's a piece that reveals a part of yourself you often keep hidden… maybe it means you write in an entirely different genre than your "usual"… maybe it means trying something humorous if you are typically serious, or something serious if you often use humor, etc.
WE WANT THIS NIGHT TO HAVE THE SAME KIND OF EXCITEMENT AND "EDGE" that is present at a real bungee jumping experience!
Our group is 100% positive and supportive, encouraging artists to try something new and different, so we can all "stretch ourselves" appropriately. Each perform will get 6 to 8 minutes max of stage time. Or simply sit back and enjoy the show.
Free to attend, free to participate, free to enjoy.
Events are subject to change without notice. Please confirm details with the event organizer.