Sunshine State Author Series Feat. James Ponti
November 16 @ 4:30 PM

-

December 13 @ 4:30 PM
Event Navigation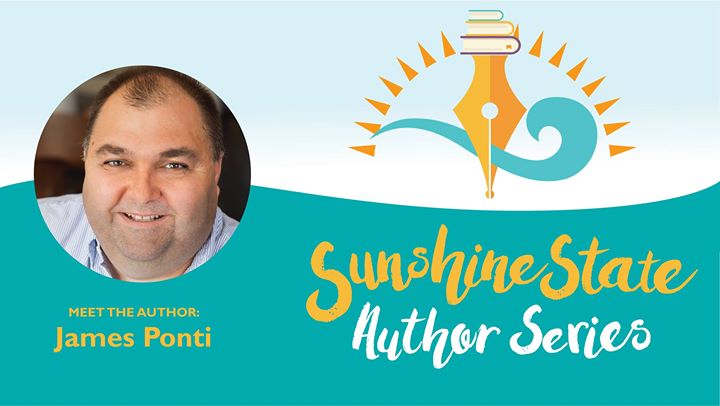 The Sunshine State Author Series brings top-notch writers of children's and young adult literature to Orange County for public readings, writing workshops and visits with students to spark interest in reading
Meet the Author: James Ponti
North Orange Branch
Saturday, November 18, 2 p.m.
Meet the author of Framed! and the Dead City trilogy. James Ponti received the prestigious Edgar Award for best juvenile mystery for Framed!, which is on the Sunshine State Young Reader Award lists for both Grades 3–5 and 6–8. Registration recommended.
Writing Workshop with James Ponti
West Oaks Branch
Thursday, November 30, 4 p.m.
South Trail Branch
Wednesday, December 6, 4:30 p.m.
Calling aspiring writers, ages 9–14! Edgar Award-winning writer James Ponti presents a writing workshop for kids and teens with interactive writing exercises and writing tips. Registration required.
Framed! Library Mystery Game
South Trail Branch
Thursday, November 16, 4:30 p.m.
Washington Park Branch
Wednesday, November 29, 4:30 p.m.
We need your help to solve a mystery! Join us for a role-playing game based on the book Framed! by James Ponti. Ages 8–14.
Mayor Buddy's Book Club Celebration
Orlando Public Library
Wednesday, December 13, 3:30 p.m.
Join Mayor Buddy's Book Club to celebrate the completion of our latest book, Framed! by James Ponti. Meet author James Ponti and get your book signed. To sign up online, visit mayor.ocls.info.
Sponsored in part by the State of Florida, Department of State, Division of Cultural Affairs and the Florida Council on Arts and Culture.
Events are subject to change without notice. Please confirm details with the event organizer.