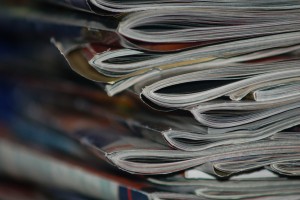 Start here: "Literary Journals & Magazines" is a guide to the basics via Poets & Writers.
If we want to be seen in print, we perhaps we should also support print with our subscriptions. Poets & Writers has been the premier source for information, support, and guidance for creative writers for more than 4o years.  Subscribe to the magazine
or have it delivered to your Kindle. P&W has some great online resources, too:
#2:  New Pages offers comprehensive information about literary magazines including reviews and contact information as well as providing information about contests and calls for submissions.
#3:  Duotrope Digest lists over 4,900 current fiction and poetry publications and is searchable by genre, pay scale, and more. It requires a paid subscription, but there is a free trial.
Rejection is part of the process