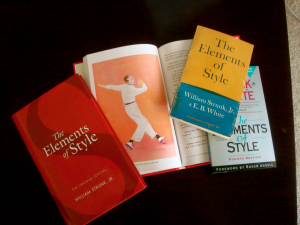 I have at least four copies of The Elements of Style:  a reproduction of the original White-less version; the fourth edition with a foreword by Roger Angell; a fun edition illustrated by Maira Kalman and inscribed "To Mommy, my favorite editor" by a soon-to-be-famous journalist; and a well-worn, dustless copy I have had ever since Dr. Maloney's High School English class <mumble mumble> years ago.
I've written here before about the arguments for and against Strunk and White's little book. Six months after publication of The Elements of Style: 50th Anniversary Edition,  the New York Times' Room for Debate revs the argument up again by asking writers to ponder whether or not the book's rules are the "be all and end all of writing."
For starters, I noticed that all the writers who responded have their own grammar or style books (and/or blogs) to flog. Obviously, their answer is going to be "no." But I'm not sure why some have to be so angry in the process. The level of anger seems pretty silly to me.
Geoffrey K. Pullum seems particularly humorless and oddly narrow in his reading of the book. Plus, his first line sent me to the dictionary to look up "anodyne."  (I bet you don't know what it means either.) Seems to me, we the readers might have benefited if he'd heeded this Strunk & White preference: "Avoid fancy words."
Grammar Girl wants to sum it all up by saying, "'Strunk and White" is a useful book, but it shouldn't be the only book you ever consult, and "Strunk and White said so" is not a sure-fire defense in a style argument."
I want to say: keen sense of the obvious, GG. If you want to learn about style, you have to read widely — and by read widely, I mean read more than grammar and style books!
I have a mountain of books on grammar and style. Unlike my Strunk and White, I read many of them once and never referred to them again. Many grammar and style books are gimmicky or aren't organized in a way that makes them easy to consult. And you know what? I would bet that most, if not all, of these books include within their pages the few clear, concise preferences that Strunk and White promote.
Writers develop their own distinctive styles. Good writers learn how to do this by being attentive to how their choices affect the reader. In his intro to the 1979 edition of the book, E.B. White wrote about Strunk:All through The Elements of Style one finds evidences of the author's deep sympathy for the reader. Will felt that the reader was in serious trouble most of the time, floundering in a swamp, and that it was the duty of anyone attempting to write English to drain this swamp quickly and get the reader up on dry ground, or at least to throw a rope. In revising the text, I have tried to hold steadily in mind this belief of his, this concern for the bewildered reader.
Angry Pullum and others want us to believe that Strunk and White are merely rule book thumpers. Read anything White wrote and you know he bends his own rules. (But you know what? White never leaves the reader without a "rope." I once noted a 64-word sentence in one of his essays. Complex, interesting, and clear as can be.)  And Strunk isn't all about rules, either. In the introduction to the first edition of the book he wrote:
It is an old observation that the best writers sometimes disregard the rules of rhetoric. When they do so, however, the reader will usually find in the sentence some compensating merit, attained at the cost of the violation. Unless he is certain of doing as well, he will probably do best to follow the rules. After he has learned, by their guidance, to write plain English adequate for everday uses, let him look, for the secrets of style, to the study of the masters of literature.
What a faux controversy this is. Strunk and White never intended their little book's rules as the "be all and end all of writing." They knew "the secrets of style" are on the pages of great books of literature– past, present, and to come.  Will and E.B. merely show us the "ropes."