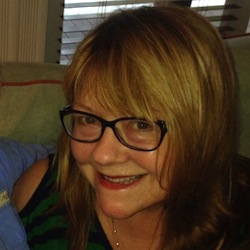 This writing workshop is all about intuition, and tuning in to connectivity we don't see on the surface of daily life, but is crucial to the work of any artist.
We will start with the formal guidelines of the Japanese form haibun and learn what we can about trusting our intuitive leaps from the prose poem of the first part to the "whisper" (haiku) at the end.
The second half of the workshop will build upon intuitive associations as we build poems that are essentially collages. By using already existing material along with new imagery, we will find ways to generate new work that will yield unexpected results. Participants will receive a short (and easy!) list of items to bring to the workshop with them.
Come and be ready to meet your own mysteries of creativity. Beginning & experienced poets welcome.
Susan Lilley i
s a Florida native. Her work has appeared in
Poet Lore, The Southern Review, Drunken Boat, Slipstream, Sweet, The Apalachee Review, Passager, New Madrid, The Florida Review
, and
Tiger Tail,
among other journals. She is the 2009 winner of the Rita Dove Poetry Award and her chapbook,
Night Windows,
won the Yellow Jacket Press contest for Florida poets. Her chapbook,
Satellite Beach,
is out from Finishing Line Press. She was voted top choice for Best of There Will Be Words prose reading series in Orlando for 2013, which resulted in a chapbook of memoir essays called
When We Were Stardust.
She was recently recognized in the top 3 of Orlando Weekly's Best of Orlando poll in the poet/spoken word artist category. Her MFA is from University of Southern Maine; she teaches literature and writing at Trinity Preparatory School and is an adjunct professor at Rollins College in central Florida.
When: Saturday,September 20, 2014, 9:00 AM – 4:30 PM
Where: Community Clubhouse, Winter Park FL 32792 – MAP
Fee: $89.
We'll break for lunch. Brown bag it, or purchase lunch nearby.

Registration is closed.