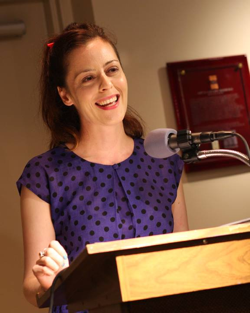 Led by writer-in-residence Annemarie Ní Churreáin
Where One Starts From
"Home is where one starts from." —T.S. Eliot
Working with the theme of "Home," this workshop provides a supportive environment for adults seeking to explore the art of writing poetry. In particular, participants are encouraged to think about observation, the process of drafting and editing new work, and how to maintain a healthy writing practice. Participants engage with close reading, creative exercises, and group discussion. No experience required and no obligation to share writing or read aloud.
Beginning and experienced poets welcome.
"I booked on a whim and was so impressed with the overall experience, particularly how accessible the subject matter was made. My appreciation of poetry has taken on a new dimension."
–Poetry Workshop Participant at Inspire Galerie, August 2014
Annemarie Ní Churreáin is a poet from the North West of Ireland.
Her writing has been published in Ireland and abroad. Some of the major publications featuring her work include: Poetry Ireland Review, The London Magazine, The Stinging Fly and The Chattahoochee Review
In 2012, Annemarie was named "New Young Broadsheet Poet" by Agenda Magazine/UK. In 2013, she was selected to read as part of the Emerging Writers Series at the Cork Spring Poetry Festival/Ireland, and as part of the Poetry Ireland Introductions Series at the Irish Writers Centre.
Annemarie is a graduate of the M.Phil Creative Writing programme at The Oscar Wilde Centre/Trinity College Dublin. She has been awarded residencies at The Tyrone Guthrie Centre, Monaghan/Ireland, The Heinrich Böll Cottage, Achill/Ireland and the Cill Rialaig Arts Centre Kerry/Ireland. In 2014, Annemarie was a Literature Fellow at Akademie Schloss Solitude, Stuttgart/Germany.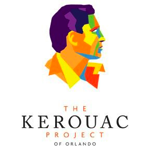 The Jack Kerouac Writer-in-Residence Project of Orlando partners with MAD about Words to offer you this opportunity to learn from and write with Annemarie Ní Churreáin, the current writer-in-residence at Kerouac House.
Space is limited. Reserve your place today.
When: November 8, 2014 | 10 AM – 1 PM
Where: Kerouac House, 1418 Clouser Avenue, Orlando FL 32804 MAP
Fee: $35.
Part of your workshop fee goes to support Kerouac House!
Register Online
Register by Mail: Make your check payable to MAD about Words. (Sorry, we can only take credit card payments online.) Please include your full name, address, phone number and email address. Mail your information and payment to MAD about Words, P.O. Box 5057, Winter Park FL 32793-5057
Terms of Registration: You must be age 18 or older to participate. Special offers and discounts cannot be combined. Refunds cannot be issued for cancellations unless we receive your written refund request two weeks before the workshop date. Fees for returned checks and cancellations apply. If, at our discretion, the workshop is canceled, refunds will be issued. Your registration is confirmed via email from MAD about Words.