Dark Humor, Weird Characters & Strange Places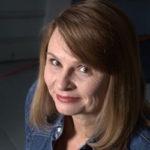 Traditional Southern Gothic literature has earned its place in the literary canon through classic works by authors like William Faulkner, Harper Lee, Carson McCullers, Tennessee Williams, and Flannery O'Conner. Come learn how current writers are rediscovering this fascinating sub-genre dealing with disenfranchised voices in warped communities—not necessarily set in the American South.
We'll start by examining some much-beloved Southern Gothic works, then move into current examples, and end the day with you generating new material of your own that embodies some of the characteristics of the Southern Gothic Revival. We'll sprinkle writing prompts throughout the session, so you can get your feet wet by trying out the concepts being discussed.
You'll also learn about exciting places to submit your work after you've spit-shined it, including one involving author Dorothy Allison and the chance to see your work in a short story anthology to be published by Twisted Road Publications next year.

And please stick around afterwards to enjoy wine, cheese and camaraderie with Darlyn, Mary Ann, and the workshop participants!
DARLYN FINCH KUHN. In addition to her two poetry collections (Red Wax Rose and Three Houses) Darlyn Finch Kuhn's work has appeared in literary journals, newspapers, magazines and online. Her poems have been featured on Poetic Logic on the local NPR affiliate, and been read by Garrison Keillor on the Writers Almanac. She was interviewed on World Radio Paris. Kuhn is the eponymous "Scribbler," of the Scribbles literary e-newsletter. She produces book trailer videos with her husband at Brad Kuhn & Associates in Orlando, Florida. Her debut novel, Sewing Holes, is available now from Twisted Road Publications, Amazon, and wherever books are sold.
Space is limited. Advance registration is required to reserve your seat.
When:  Sunday, June 14, 2015 |  1 PM – 4 PM
Where: MAD's Condo Community Clubhouse in Winter Park FL
(address provided upon registration)
Fee: $35.
Registration is closed.