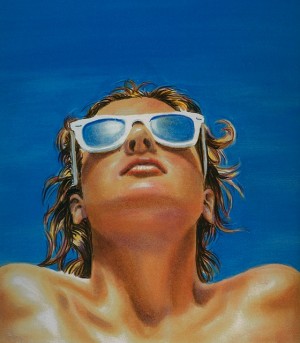 Did you know that your "About" page is probably the most frequently visited page on your website? Check your analytics. You may be surprised.
Is your About page as compelling as the rest of your site? Or is it ordinary, an afterthought? Here are some ideas to spur you to write a more compelling About page.
Write in your own voice.
Maybe it's because people find it difficult to write about themselves. Maybe it's because they think that professional means formal, but often About pages are dry, stiff, and terribly boring. You're a writer, for heaven's sake. Don't stop being creative here. Make your personality and your writerly voice come through on your About page, too.
It's more than okay to write your About in first person. (Unless you're a Famous Person, we know you've written your own bio anyway.)
Write for your audience.
Who are they, and why do they come to your website? Your About page should help you accomplish your goal for the site. Address readers directly. If you're an author who wants to attract more readers, then engage them in a personal way that builds connection and loyalty. Differentiate yourself from others.
Tell a story.
People will connect with you through your story more readily than they will through lists of facts or credentials. (Show, don't tell!) Website visitors don't want to know your whole life story. Don't go on and on at length, but do share a story that shows why you do what you do. An author's story could answer such questions as: Why do you write? When did you first start writing? Where do you get your ideas? Show people who you are and what you believe in.
Show the real you.
Post a good photo of yourself or two, an avatar or stock photo just won't do. I am surprised by how many author and freelancer sites don't include profile photos. (I wonder: what are they hiding?) People want to know the real you.
Add something personal in the text, too. Something unrelated to your writing. Mention a hobby, a special talent, a pet, or a favorite food. Give people another avenue for connecting with you, human to human.
Include your credentials, but don't pad.
Include your publications, your experience, your education and your skills. You can also list honors you've received and associations you're involved in, but try to incorporate your credentials in an elegant way. And don't pad! Name only the biggies, and keep it relevant and concise. Unless you can make an intriguing story of it, your potential readers don't really care if your chihuahua placed first in show in your town's pet show.
Oh yeah, and include a sample reviews or endorsements or two, and a button to click to buy your book, sign up for your mailing list, or contact you.
Examples
Mary Burton – covers all the ground, but starts like a story and is concise
Carl Hiaasen – the humor he is famous for shows through
Austin Kleon – love his two-line "about" statement accompanied by an "official" one
Maria Popova – leads with unusual word choices (perfect for an unusual blog)
What do you think of them? How does yours compare? Please share your thoughts and examples of other About pages that have intrigued you.
A version of this post originally appeared on the Florida Writers Association blog.