MAD about Words is the brainchild (and heartchild) of Mary Ann de Stefano. MAD helps writers achieve their goals by providing high-quality editorial services, author website design, writing workshops, and other resources for writers.
Sold Out!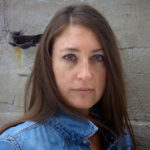 A Writing workshop at Kerouac House with writer-in-residence Ciara Shuttleworth.
"Writing Athletically & Revising Like the Beats" will focus on creating first drafts with spontaneity, using breathing, meditation, and confession as techniques to press physicality to paper. Details...