MAD about Words is the brainchild (and heartchild) of Mary Ann de Stefano. MAD helps writers achieve their writing goals by providing high-quality editorial services, author website design, writing workshops, and other resources for writers.
Poetry Workshop at Kerouac House - Sean Patrick Mulroy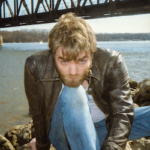 With a diverse professional background in both spoken word and literary studies, Sean Patrick Mulroy is a nationally recognized performer and an award winning professor. He holds an MFA from the University of Wisconsin-Madison, is a 2013 Lambda Literary Fellow, a 2017 Kurt Brown Prize Winner, and 2017-2018 Writer-in-Residence at The Kerouac Project.
How do I love thee? Let me count the ways – February 10
As the famous Walt Whitman put it, "the powerful play goes on, and you may contribute a verse." This workshop hopes to inspire you to contribute your verse (or verses!) to the "powerful play," of love poetry, with an eye towards the storied history of poetic romance. Workshop details & registration...
Events for Writers & Readers
February 25 @ 11:15 AM
-
3:00 PM