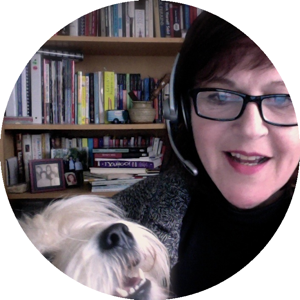 First, I listen to you
Every writer and every writing project is different.
That's why I offer a free 30-minute introductory consultation by phone. Before you invite me to read your manuscript, before I can advise you on your web presence, I feel it's important we get to know each other.
I want to hear about your writing, your goals, and the kind of support you're looking for. I'll tell you about how I work with writers and answer your questions and concerns.
If you decide to proceed, I'll provide a detailed written proposal with a payment schedule for your consideration. Even if you decide not to work with me, you'll have a proposal to measure other offers against.
My fees are in line with common rates listed by Editorial Freelancers Association.
You don't have to do it alone
MAD about Words helps writers by providing high-quality editorial services, author website design, and writing workshops and by publishing the popular MAD's Monday Muse.
Browse these pages to learn more about me and the people I've helped, and then contact me to schedule a no-charge, no-obligation consultation.
I look forward to meeting you!
Contact MAD for a Free Consultation
Editorial Services
Overall, my methods tend to be instructive rather than prescriptive. My goal is to help you grow as a writer and achieve your vision for your writing.
I can point out what you're doing that might stand in the way of achieving that vision, but I believe an editor should raise questions and offer suggestions—not give orders. In my view, editing is a conversation, and the pen should remain in the writer's hand.
You will make the final decisions about your work. My job is to provide you with advice that will enable you to make those decisions much more confidently.
Learn more about my editorial services…
A Partial List of Editing Clients
Author Websites
I'll listen to your ideas, share my creative input, and together we'll come up with a plan for your site that supports your writing career.  Because that's what your website is all about, you know, building an audience for your work today—and the long term.
Lots of people could build you a website. You can even create one yourself for free. But in addition to my technical abilities,  I  understand marketing and how a website fits into the strategy. I'll bring my marketing know-how and bright ideas along with my techie skills into the process of creating your website.
Learn more about my website services…
A Partial List of Website Clients
FWA Network (private social networking site for writers)
Centers for Social Responsibility
Doug Dillon, Author
Heather Geo, SEO Copywriter & Content Writer
Italian Beach Rental
Darlyn Finch Kuhn
Orlando Insight Meditation Group
Playful Early Learners
Terry Godbey, Poet